So you're about to embark on a house-hunting adventure?
We're here to guide you and help you plan your approach, so that you can find the right home, and get to that moment as quickly and effortlessly as possible.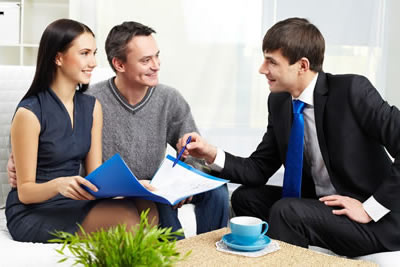 First, work out what you need.
In order to find the home that best meets your needs, you need to know what those needs are. Rather than waste your time viewing properties that are not at all suitable, consider the following questions upfront:
What type of accommodation would suit you best?
What areas do you like?
Is it important to you to be close to schools? Churches? Shopping centres?
How many bedrooms do you need? Bathrooms? Garages?
What issues would be absolute deal-breakers for you?
Next, take a realistic look at your finances
Before you throw yourself wholeheartedly into the job of house-hunting, establish what you can afford. Here are a few financial questions to consider:
Do you have money available to put down as a deposit?
What size mortgage bond will you qualify for on your income?
Can you realistically afford the monthly repayments on that amount?
How much will you have to pay in transfer costs and attorneys' fees?
Do you have money set aside for this?
How much do you need to budget for relocation expenses?
Once you have the answers to these questions, you will have a good idea of the price range you should be looking in. Don't make the mistake of waiting too long to look at your finances: it's unbelievably disheartening to find your dream home, fall in love with it, start planning your furnishings, and then discover that you can't actually afford it.
Find the right agent.
All agents are bound by law to deal fairly and ethically with both buyer and seller. However, because the seller typically hires the agent, the agent's legal obligation is to represent the interests of the seller.
Many buyers leave their names and needs with four or five different agents. Now, although this sounds like a good idea, the reality is a little different. Because the buyer is not committed to any one agent, none of the agents are motivated to spend extra effort on their behalf.
Our advice is to find an agent that you are comfortable with and trust – one that you feel will get the results you want – and then stick with them exclusively. The right agent will make it their business to represent you during your house-hunt and to handle every detail of your purchase. They will get to understand your needs properly and thoroughly, and will be able to give you appropriate advice throughout the process.
Ultimately, real estate is a people business. At Milieu, we hold strongly to the idea that we need to earn your trust and confidence through our actions.
Top 10 Questions for your Attorney
It's important to be as informed as possible when buying and financing a home. Here's a list of questions to put to your attorney.
To whom do I pay the deposit?
This will depend on what your contract says. Your deposit can be paid either to the estate agency or the conveyancers appointed to handle the transfer. They both have trust accounts where your money is protected. Please ensure you receive the appropriate receipts. Don't pay your deposit directly to the seller or to an estate agent.
Who gets the interest on the deposit?
Unless otherwise agreed, the interest is paid to you after registration of transfer. On your written authority, both your estate agent and conveyancer can arrange for it to be invested in an interest-bearing account, and will act in your interests by placing it in the best short-term investment available.
To whom do I pay the occupational rent?
Your occupational rent goes to the estate agent or the conveyancer. They will usually pay it into the seller's bond account or directly to the seller. You could pay it directly into the seller's bond account if so agreed, but you may be required to provide proof of payment each month.
When will I have to sign the transfer documents?
A few weeks after the sale agreement is signed. Usually your conveyancer will wait until the bond is granted and he has received the cancellation figures for the seller's existing bond. Only then can the guarantee authority forms be completed and signed. You can phone the conveyancer for an update at any time
How long will the transfer take to register?
This depends on the circumstances and due dates for the bond grant and on the guarantees stipulated in the deed of sale. The average for most sales is about three months from the date of sale. When there are no complications, registration can happen within two months. If there are complications, registration can be delayed. If this is the case, you will need to stay in touch with your conveyancer.
What will my transfer and bond costs be?
Your estate agent and attorney should be able to answer this question based on a schedule of transfer and bond costs. The actual transfer fees depend on the purchase price of the property. Bond costs depend on the total home loan registered and whether you are buying in your own name or in a trust, close corporation or company. Your attorney will give you the exact costs.
When must my transfer costs be paid?
This usually happens a few weeks after the sale, when you sign your documents. Your conveyancer will require payment, since he has to pay the transfer duty - the major charge on most transfers - in advance, as well as the rates or levies due, to obtain a clearance certificate. Don't delay making a payment - it will unnecessarily delay the transfer.
Who will register the transfer bond?
The bank will have a local panel of conveyancers for bonds and one of these will be instructed to register your bond. If the transfer conveyancer is one of those on the panel, he will probably do the bond registration as well. The bond costs will be the same, though your transfer may go through faster if the same conveyancer does both.
Who will contact me on registration?
Your conveyancer's secretary should contact you on registration to advise you. You will also be given a final statement of the account. Your estate agent may phone you to confirm registration. The bank will send you a letter advising you of the registration of your bond and the date when your first instalment is payable.
When & Where will I get the keys to the property?
Your estate agent will make arrangements to meet you at the property, once it has registered, with the keys and do a 'hand-over' to you the new owner.
Notification checklist
We've put together a handy checklist to help you keep track of everyone that needs to be contacted about your upcoming move.
Send out change-of-address notifications

Post office
All accounts
Subscriptions
Relatives and friends

Make arrangements with the moving company
Disconnect utilities, get deposits refunded, and advise where final bills are to be posted to

Water
Electricity
Telephone
DSTV

Cancel deliveries, where necessary
Transfer memberships and accounts, where necessary

Schools
Church
Civil organisations
Gym
Bank accounts
P.O. Box
Other:

Contact your insurance broker

Change address on life, car and household contents insurance
Check on coverage for goods in transit